WELCOME TO ACCU-CRAFT POCKET SCALES. WE ARE IN BUSINESS TO SERVE YOU, THE CUSTOMER! SO FEEL FREE TO BROWSE OUR SITE, AND SEE OUR EXCITING PRODUCTS AND THE TIME HONORED TRADITION OF AMERICAN CRAFTSMANSHIP.

ACCU-CRAFT POCKET SCALES HAVE BEEN MADE IN THE U.S.A. FOR OVER 30 YEARS FROM POLISHED NICKEL PLATED STEEL. THERE ARE 3 SCALES TO CHOOSE FROM AND THE USES INCLUDE:
MEASURE THE WEIGHT OF POSTAGE AND ECT. IN OUNCES AND GRAMS.( ACCU-CRAFT POCKET POSTAL SCALE # PO - 2).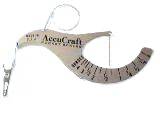 MODEL # PO-2
DETERMINING THE WEIGHT OF PAPER IN BOOK, BOND, AND COVER (THE ACCU-CRAFT POCKET PAPER SCALE MODEL # PO-3).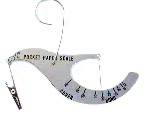 MODEL # PO-3
WE ALSO HAVE DEVELOPED A MODEL (ARROW POCKET SCALE PO-4) TO MEASURE THE WEIGHT IN GRAINS FOR ARROWS USED IN COMPOUND BOWS BY HUNTERS. NOT ONLY IS THE POCKET SCALE A USEFUL TOOL, IT IS ALSO A GREAT INEXPENSIVE SALE OR PROMOTIONAL ITEM. FOR THE HUNTER IT IS A MUST IF YOU WANT THAT TROPHY BUCK.
MODEL # PO-4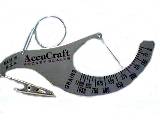 Contact Information
FOR SALES CALL OR FAX US AT:1- 870-326-4700, OR JUST TO FIND OUT MORE INFORMATION ON THE PRODUCTS LISTED ON OUR SITE EMAIL US AT pocketscales@alltel.net

WRITE TO:

ALFORD ENTERPRISE

(ACCU-CRAFT)

P.O.Box 69 Pencil Bluff, AR 71965